The Vertica Forum recently got a makeover! Let us know what you think by filling out this short, anonymous
survey.
Please take this survey to help us learn more about how you use third party tools. Your input is greatly appreciated!
Displaying the Vertica Code Name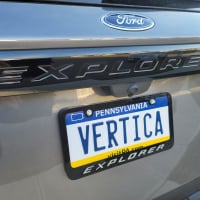 Jim_Knicely
- Select Field -

Administrator
Every major release of Vertica has a code name.
CODE NAME      VERSION  
-----------    -----------
Grader         9.x 
Frontloader    8.x 
Excavator      7.2.x
Dragline       7.1.x
Crane          7.0.x
Bulldozer      6.1.x
Bunkerhill     6.0.x
Catania        5.1.x/5.0.x

To find out the Vertica code name of your database, you can query the DC_STARTUPS Data Collector table.
Example:
dbadmin=> SELECT version, codename
dbadmin->   FROM dc_startups
dbadmin->  ORDER BY time DESC
dbadmin->  LIMIT 1;
              version               | codename
------------------------------------+----------
Vertica Analytic Database v9.2.1-0 | Grader
(1 row)

Helpful Link:
https://www.vertica.com/docs/9.2.x/HTML/Content/Authoring/AdministratorsGuide/Monitoring/Vertica/QueryingDataCollectorTables.htm
Have fun!